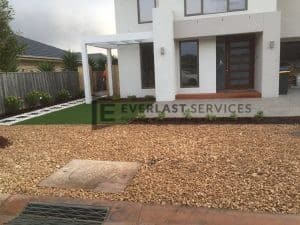 Are you looking for fencing, concreting and landscaping services in the Sanctuary Lakes area?
Everlast Services is a reliable, local business that you can depend on when it comes to fulfilling all your Sanctuary Lakes fencing, concreting and landscaping needs. We are a family owned and operated company with over 20 years of experience, during which time we have built up a reputation for professional, reliably and high-quality service. We pride ourselves on maintaining a high level of workmanship at a reasonable cost so that we can help to make your dreams a reality.
When you choose Everlast Services, you can also know that you're doing a great thing for your local economy by choosing a business which only sources and uses Australian-made products and materials. We even have our very own manufacturing plant based in Hoppers Crossing, which produces all of our steel goods. This also means that if you have a specific steel design in mind, we can create custom materials which can make your vision come true.
We believe in honest hard work, which is why you can count on us to deliver impeccable service every single time.
Our Services
Fencing Services
Concreting Services
Landscaping Services
Contact Everlast Services Today
For the best fencing, landscaping and concreting services in the Sanctuary Lakes area, look no further than Everlast Services. We can provide you with the quality services you're looking for. Contact us now: